The importance of the structure of the outside of your home cannot be overstated. As a homeowner, looking at a stunning exterior when arriving home will instantly put you in a good mood. Not only that, but making sure your home looks lovely from the outside also undoubtedly increases your curb appeal. 
If that's what you want, keep reading. This article will provide you with some valuable tips on effectively adding charm to your home. 
1. Add more lights
Make your home visible in the dark through the right light fixtures. This will not only embellish your home, but will also offer added flair. Aside from aesthetics, outside lighting is necessary to prevent injury. It eliminates the risk of someone tripping and falling on your property and hurting themselves.
Some of the best light fixtures you can add to the outside of your home include pendant lights, front entry lights, and cottage lights. When choosing among the available choices, you have to make sure that you find one proportional to your front door. 
2. Find the right front door 
The primary role of a front door is to provide privacy and safety within the residence. Aside from that, it can also catch the attention of neighbours and possibly possible home buyers. Therefore, when adding charm to your home exterior, you should prioritise finding the right front door. 
One of the most important things you find out during this process is the size you will work with. An outside door is typically 80 inches by 36 inches in dimension. However, it would be best if you still took the dimensions yourself. Specifically, find the three measurements from the door frame, including the top, centre, and bottom. 
Another concern is the front door colour. Traditional homes appear best in muted colours, such as deep blue, dark grey, and sage green. Furthermore, the natural lighting around your front entrance can help you decide on the perfect paint. For example, a lighter or brilliant hue will stand out against the darkness if you have a darker porch area. 
Another significant factor when deciding the right front door is the material. Some of the most common exterior door materials include wood, steel, fibreglass, aluminium, and vinyl. Although wooden doors are strong, they can be damaged by prolonged exposure to natural elements. Meanwhile, fibreglass is more resistant to the impacts of extreme weather and lasts longer.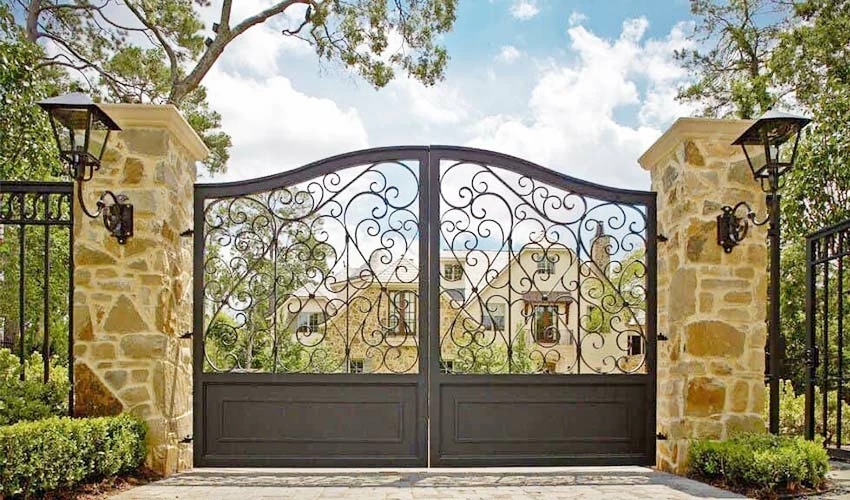 3. Install a sturdy gate 
A residential gate improves security by allowing you control over the home entrance. Aside from that, gates can lend a sense of presence to the exterior of your home. When paired with landscaping in front of and beyond the gate, it makes your front yard appear significantly larger.
Because of their durability and longevity, cedar, teak, and redwood are popular fence materials. When choosing the right material for you, you should significantly consider your budget and space. 
4. Fix your driveway 
A driveway serves as the focal point of your property because it serves as the entry to your home. Their appearance contributes to your home's general long-term impression. Most importantly, this increases property value. In fact, a driveway can improve the value of your home by 5-10%, according to estimates.
Adding texture to your driveway with various materials is one method to improve your driveway. A stamped finish, for example, can revitalise a concrete driveway and its boundaries. You can also use edging to enhance curb appeal. The first and most obvious advantage is that edging protects your driveway. Besides this, they serve as a means of enclosing planting spaces.
If you have a lot of space in your driveway, you can also build a fountain. With an outdoor fountain, you generate a subtle form of elegance that will undoubtedly impress everyone who passes by your home. 
5. Add colourful plants
If you want to create cost-effective modifications that will not deteriorate but rather improve with time, you can turn to outdoor plants. Planting bushes and trees near the front of your home can provide an ideal outside enhancement. 
Lavender, Canna Lily, Chrysanthemum, and Hydrangea are some of the best plants for your home's exterior space. Using plants to add symmetry to the outside of your property will help make it appear more appealing. Put matching plants on either side of your entrance door to accomplish the look. 
6. Purchase outdoor furniture
Outdoor furniture is necessary if you intend to host large gatherings in your backyard. Furthermore, excellent outdoor furniture adds both comfort and functionality to your deck or patio. Tables, chairs, benches, and sofas are examples of outdoor furniture. 
Since outdoor furniture will be exposed to many elements, you will need to find those of the best quality. A good piece of patio furniture can survive for 15 years or more. Some of the best materials include hardwood, white oak, wrought iron, and metal. 
Despite how durable they can be, it is still important to incorporate shade. Once you've determined the perfect location for your furniture, add accessories and flashes of colour that reflect your style. 
7. Install house signs 
The primary function of the home sign is to be seen from the street. Besides this, slate house signs offer a stylish touch to people's houses. With over 15 years of experience, Welsh Slate House Signs produces engraved and painted slate signs. You can trust that our products will last a lifetime and beyond.